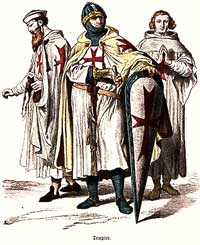 "
Independent and permanent, (made so by the papal bulls
Omne datum optimum
(1139),
Milites Templi
(1144) and
Militia Dei
(1145), TN) the Templars needed the means to sustain themselves. As defenders of the goods of the Church it was appropriate to exempt them from the payment of tithes, while at the same time giving them the right to acquire them, provided that they had the assent of the bishops and their clergy.
Moreover, such a structure needed not only material resources, but spiritual guidance as well, and the bull granted the Order its own priests for the first time. Once in the Order, these priests were as much under the control of the Master as the knights and sergeants, despite the fact that the Master was not ordained. The Order was similarly allowed its own oratories, where divine office could he heard undisturbed by seculars, and around which they and their associates could be buried.
"
source text: Malcolm Barber The New Knighthood: A History of the Order of the Temple (Canto) (New Ed) [Paperback]
; illustration source